The Great Tribulation
You Know You're in the Great Tribulation
when They Crucify God.
"These are they which came out of great tribulation, and have washed their robes,
and made them white in the blood of the Lamb."
Revelation 7:14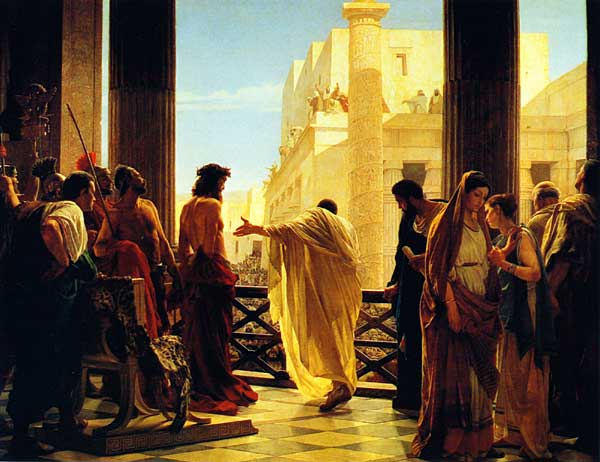 Ecce homo!
("Behold the Man!")
Pontius Pilate presenting a scourged Christ
to the people.
Antonio Ciseri, 1871.
"The kings of the earth set themselves,
and the rulers take
counsel together against the LORD,
and against His Anointed ... ."
Psalm 2:2.
Popularly, the Great Tribulation is understood to be a future time of unparalleled persecution, stress, and trouble for the Church. But what greater tribulation (trouble) could there be than the crucifixion of God by the world? Yet, that is precisely what happened in the crucifixion of Christ. God was crucified when they crucified Jesus, the Lord of Glory (I Corinthians 2:8, Formula of Concord, Solid Declaration, Article VIII.44). For this reason Jesus says no greater time of tribulation has the world known than the crucifixion of God and its wake, the subsequent dreadful judgment of Judah and Jerusalem for the rejection and murder of God (St. Matthew 24:21; Psalm 69:20-28).

The Great Tribulation began with the Greatest Tribulation ever (Daniel 12:1, a tribulation so great it moved the Archangel St. Michael to action because it comprised the murder of his Captain [Joshua 5:14], Jesus, the Angel of the Lord), the crucifixion of Christ and the murder of God. God's murder is the particular infamy of the world because Christ had already resolved to die at that moment to atone for the sins of the world (St. John 10:18), the world's only contribution and particularly ignominy being to festoon His willing sacrifice with the garland of murder. Because the world treated God brutally and crucified Him, God's followers can expect the same. Jesus says, "Remember the word that I said unto you, The servant is not greater than his lord. If they have persecuted me, they will also persecute you; if they have kept my saying, they will keep yours also." St. John 15:20.

As this Message of God's Murder reverberates throughout the world through the Gospel, persecution arises because the world does not think its righteousness is the cause of God's death (I Corinthians 1:23, the scandal of the Cross). Persecution also arises because the Gospel of the death of Christ for the sins of men plucks them out of the devil's kingdom (St. John 12:31-32), transferring them to the Kingdom of Heaven on earth, and saving. The devil does not take the unraveling of his kingdom kindly. Controversy and tribulation, therefore, arise wherever the Gospel is preached and men are delivered from the devil's domain. St. Paul writes, "For we wrestle not against flesh and blood, but against principalities, against powers, against the rulers of the darkness of this world, against spiritual wickedness in high places." Ephesians 6:12. Wherever the Gospel is preached, there the battle lines of conflict are drawn and the flashpoints between the kingdom of darkness and the Kingdom of Light erupt. St. Peter writes, "that ye should shew forth the praises of him who hath called you out of darkness into his marvellous light." I Peter 2:9.

These battle lines and flashpoints have gone global and millennial because Christ has commanded the Gospel to be preached throughout the world until the end of the age (St. Matthew 28:19-20). Hence, the flashpoints between the kingdom of darkness and the Kingdom of Light multiply globally and millennially as the Gospel rolls back the frontiers of the kingdom of darkness around the world and down through the cascading ages – a tribulation great, indeed!

Surviving the Great Tribulation would seem impossible because we have the world, the devil, and even the fifth column of our own flesh arrayed against us. But it is not impossible but already accomplished. The Lord has already anticipated all this tribulation, great and small, and has overcome it for us already. Jesus says, "These things I have spoken unto you, that in me ye might have peace. In the world ye shall have tribulation: but be of good cheer; I have overcome the world." St. John 16:33.

The Great Tribulation is not some future age but our age, the here and now, the New Testament era, the time from the birth of Christ to His return in glory. Tribulation during this era arises anywhere across the globe and any time down through the ages the Gospel is preached because the Gospel overthrows the kingdom of the devil. Circumstances will remain so until Christ returns again glory.

Throughout this Great Tribulation Christ remains with His Church to create, nurture, defend, and sustain her through His Word and Sacraments, the Gospel, the Power of God unto Salvation (Romans 1:16). Jesus says, "Go ye therefore, and teach all nations, baptizing them in the name of the Father, and of the Son, and of the Holy Ghost: Teaching them to observe all things whatsoever I have commanded you: and, lo, I am with you alway, even unto the end of the world." St. Matthew 28:19-20. St. John concludes that the saints overcome the Great Tribulation through the Gospel, i.e., the Blood of the Lamb:

"These are they which came out of great tribulation,
and have washed their robes, and made them white in the blood of the Lamb."